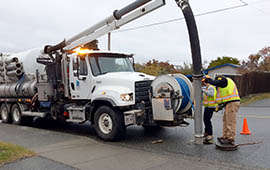 The Village of Cumberland is conducting sewer flushing work this week in order to clear out gravel, grease and debris that can lead to blockages in sewer lines.
Before flushing begins in your area, you will receive a notice to keep your toilet lids closed, especially in your basement and first floor in order to avoid water splashing from your toilets.
The high-pressure water used to clean the pipes can result in backflow through the service pipes to your home.
The Village says residents may also experience some sewer odor if the force of the flushing clears standing water from drain traps in homes.
This odor may be eliminated by flushing toilets and running water in all drains, including any floor drains.