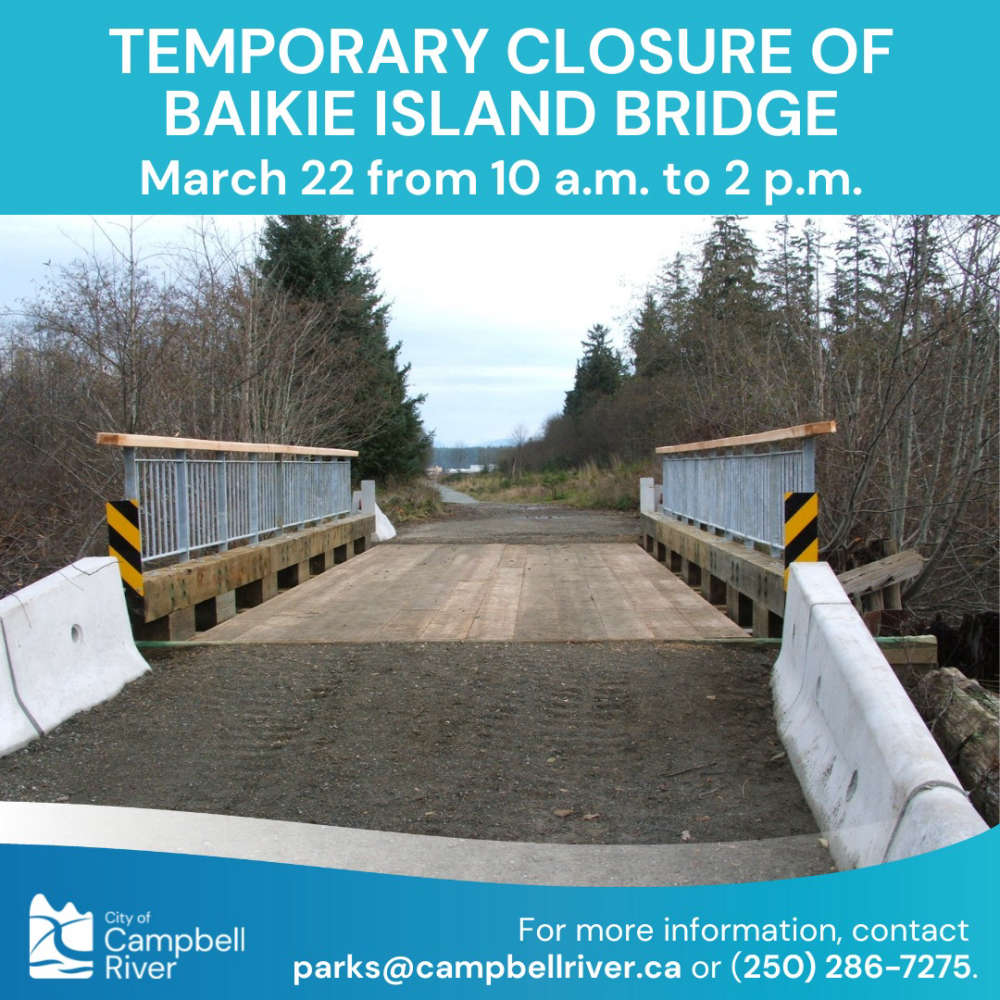 (PHOTO Recreation and Culture Department, City of Campbell River Facebook)
A temporary closure of Baikie Island Bridge is scheduled for next Wednesday, March 22, 2023, from approximately 10 a.m. to 2 p.m.
The closure is to facilitate geotechnical testing. The City asks the public to respect the barricades and signage in place, and thanks bridge users for planning accordingly.
Later this month, we'll see temporary road closures across two dams on the Campbell River system for some work at the John Hart Dam, and for spillway gate maintenance work at the Strathcona Dam.
Brewster Lake Road across the John Hart Dam will be closed at 7:00 am on March 27 and remain closed until April 14.
Road closure awareness signage on both sides of the dam will be updated with the closure dates.
The closure is needed for crews to carry out some investigative work under the roadway on an earth fill section of the dam as we prepare for the John Hart Dam Seismic Upgrade Project.
There has been ongoing early site preparation works around the dam since the fall so our civil works contractor can hit the ground running, pending final project approvals, starting in July.
Upstream at the Strathcona Dam, there are three spillway gates that are mainly used for flood risk management operations.
With the end of the fall and winter storm season, crews will be performing their annual maintenance work to the spillway gates.
The road across the dam will be closed from March 28 to April 6, from 8:00 am to 5:00 pm, daily.
There is the potential the work may take place during the April 1-2 weekend depending on how things proceed.
For more information, contact parks@campbellriver.ca or call (250) 286-7275.