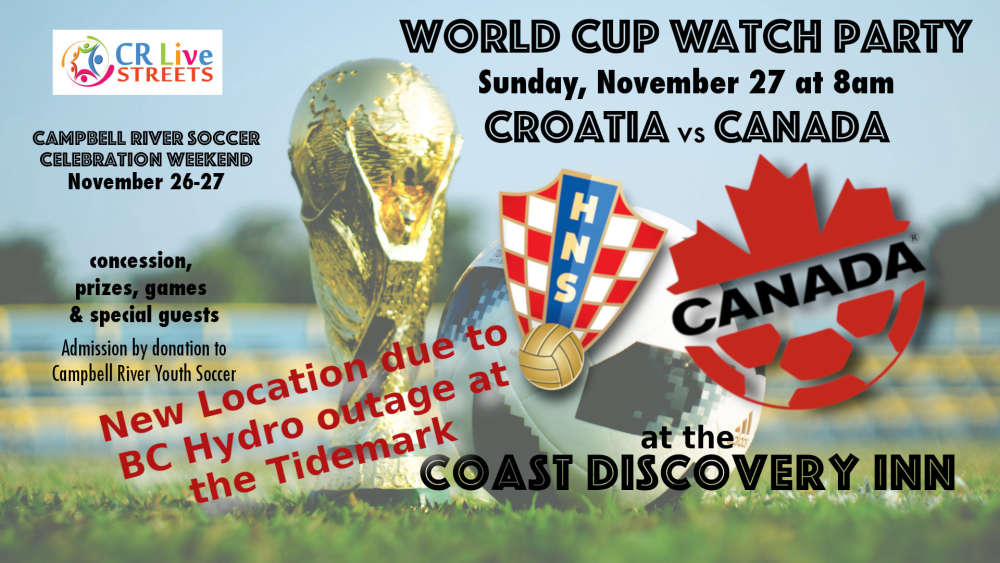 Campbell River is joining the hype and getting into the World Cup, with the Canadian team in the tournament for the first time in a generation.
This weekend, November 26th and 27th has been dubbed "Campbell River Soccer Celebration Weekend".
The event centres around a community watch party for the World Cup match between Canada and Croatia on Sunday morning at 8am, but the weekend includes youth soccer and the highest level of men's soccer in town, as well as a movie showing and foosball tournament, all free for the community to take part in.
The events begin on Saturday, November 26 the Robron turf field with the final day of the Campbell River Youth Soccer Association fall season. Over 400 local kids from four to fourteen years old are enrolled in house league this fall.
On Sunday the scene shifts downtown for a community watch party of Canada's World Cup match against Croatia. Initially planned for the Tidemark Theatre, the event has been moved to the Coast Discovery Inn due to a BC Hydro planned outage that will affect the Tidemark that morning.
Following the big game, the Community Centre gym will be open for drop-in soccer and a foosball tournament.
Campbell River Soccer Celebration Weekend is supported by the City of Campbell River and CR Live Streets.