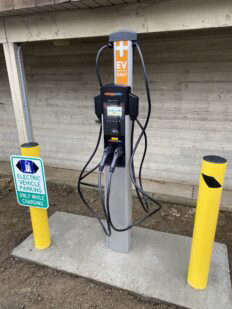 (PHOTO Village of Cumberland)
You'll notice more electric vehicle charging stations in our region.
The Village of Cumberland recently installed two new dual-port EV charging stations at the Cumberland Cultural Centre.
The installation represents the existence of the first public charging stations in the Village core.
The level 2 chargers will add 30- 40 kms of range per hour - and the Village is hoping that might coax residents and/or visitors to have a meal at a local restaurant, go shopping or enjoy the local trails!
The charging stations will be operated as cost-neutral to the Village and charging fees have been set at $2.50/hr.
The Regional District of Nanaimo submitted the collaborative grant submission to help fill gaps in region-wide charging stations and expand zero-emission transportation operations.
The Town of Comox just installed a new EV charging station at the Comox Community Centre and another couple popped up in Courtenay earlier this month.