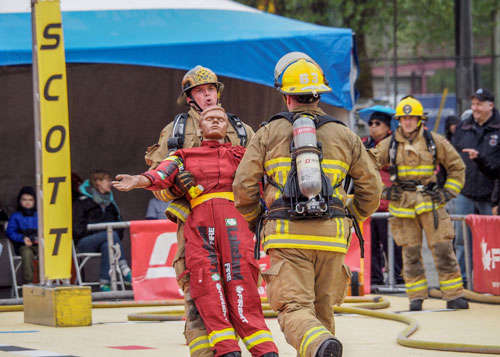 (PHOTO City of Courtenay)
This weekend, the Courtenay Fire Department will host the BC Regional Firefit Championships.
"This championship is not only exciting to participate in, it's great to watch," said Don Bardonnex, Fire Chief at Courtenay Fire Department.
"Competitors have been training for months and provide a great display of speed, endurance and teamwork."
It's being held on 4th street, between Cliffe and Duncan Avenue tomorrow and Sunday, from 11am to 430pm.
The two-day event allows competitors from across North America to represent their departments and compete in several events.
The regional event showcases some of the country's best athletes as they compete in a series of events that simulate the strenuous activity of a working structural fire.
A team from the Courtenay Fire Department has been travelling to regional events across the country for the past six years. The team hosted a successful Firefit event in 2019 and will now be competing in front of their home crowd once again.