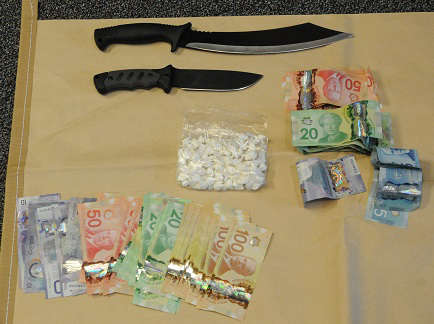 Seized Drugs, cash, and knives from recent Drug Trafficking investigation. (PHOTO R.C.M.P.)
Members of the Campbell River Street Crimes Unit seized cash, drugs, and guns after executing search warrants on two residences in the Campbellton neighbourhood.
A home in the 1900 block of 15th Avenue and a home in the 1700 block of Tamarac Street were raided simultaneously on February 28th, after an extensive investigation indicated significant levels of illegal activity.
Officers seized over $6000 cash, fentanyl, methamphetamine, cocaine, crack cocaine, and a variety of pills, along with scales, packaging materials, replica firearms and other evidence of drug trafficking activity.
Two 41 year old men and a 43 year old woman were arrested as a result of the investigation and were later released with a court date in May.
If you have information regarding illegal activity in your neighbourhood, you're asked to call Campbell River RCMP at 250-286-6221.
For more information, visit Royal Canadian Mounted Police.