Sunfest Weekend Passes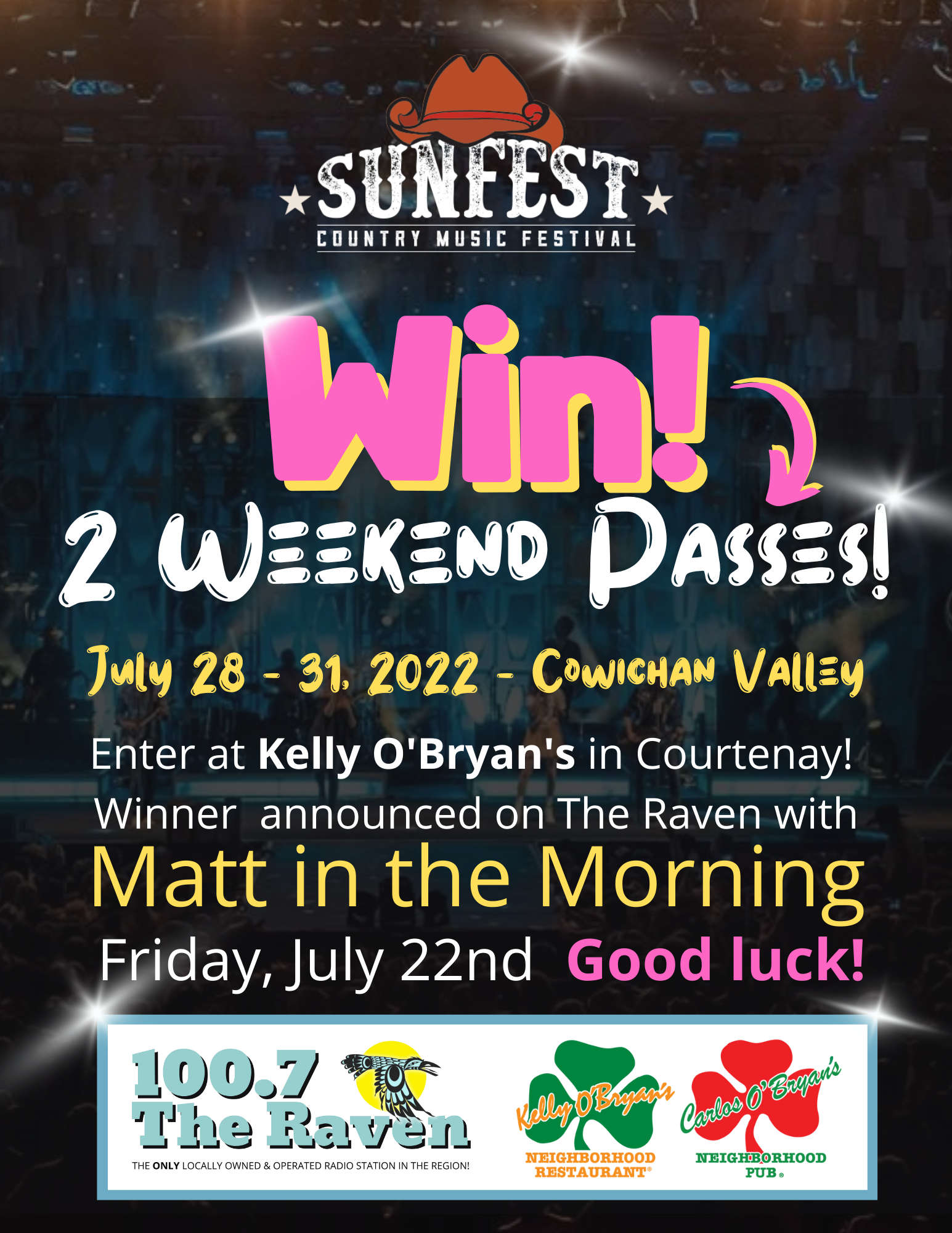 Contest Rules & Regulations:
1. Registration open Monday, July 11th - 21st 2022
2. Participants may only enter to win at Kelly O'Bryan's Restaurant, Courtenay. (2910 Kilpatrick Ave)
3. Entries only available during regular business hours (Please see website for details)
4. Only one entry per person, no purchase necessary
5. Winner takes full responsibility for their own conduct at Sunfest, The Raven, Kelly O'Bryans & any other affiliate business may not be held responsible for any problems faced by winner at the event.
6. Winner agrees to follow all rules of Sunfest event: https://www.sunfestconcerts.com/rules/
7. Entrants must be a minimum of 19 years of age
8. Weekend passes do not include camping
9. Entrants agree that Kelly O'Bryans & The Raven may use their name, image & any other forms of media to promote the contest and/or their businesses indefinitely
10. Prize must be accepted as awarded and cannot be transferred, assigned, substituted or redeemed for cash
11. Winner is responsible to pay any additional expense associated with the prize, including but not limited to any taxes, fees or other expenses associated with the winner receiving the prize and otherwise taking title to the prize
12. The use of this prize may involve inherent danger and risk, including without limitation, danger of injury (including death), damage to or loss of property and any prize is provided to the recipient solely at the risk of the recipient
13. The chances of winning this contest are dependent on the number of eligible entries received during the Applicable Contest Period and on the application of any judging criteria used to determine and declare a winner, if applicable.
14. Winners name will be provided to Sunfest Organizers, Weekend passes must be picked up in person, with Government issued ID at the event box office.
15. The Raven & Kelly O'Bryan's reserve the right, in our sole discretion, to modify, amend, suspend or terminate any of the Contests, in any way, at any time and for any reason whatsoever, without prior notice.