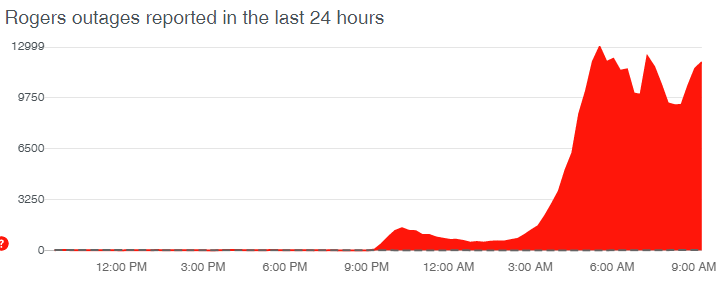 Rogers and Fido mobility and Internet customers in Canada's major cities have been experiencing outages and no service this morning since before 6 am.
According to the Down Detector website, as soon as customers woke up this morning across Canada they started reporting outages with Rogers services, including in Vancouver and Victoria. So far nearly 13,000 reports across Canada have come in.
The outage is also affecting Fido mobility customers.
"Some wireless customers are experiencing an intermittent service interruption for wireless voice and data services. Our team is working quickly to restore services as soon as possible," Rogers said from its @RogersHelps customer care Twitter account. "We apologize for the inconvenience and will continue to provide regular updates."
Rogers and Fido customers impacted by the cell outage can still make 911 calls. However, police departments across Canada are warning those who need to make an emergency call to stay on the line, as 911 operators will not be able to call back if the call becomes disconnected.