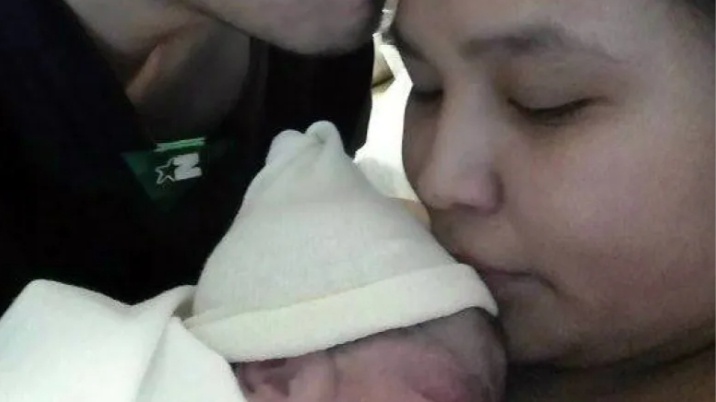 Jocelyn George with Christopher Cenname and their infant daughter in 2016. (Provided by Christopher Cenname to CBC)
A public inquest into the death of a teenage mom from Port Alberni who died after being held in police custody in 2016 will take place next week.
On June 21 in Port Alberni, at the Capitol Theatre, the BC Coroners Service will hold a public inquest into the death of Jocelyn Nynah Marsha George, who was 18 years old when she died on June 24, 2016. She died in hospital in Victoria after being transferred from police custody at the Port Alberni RCMP detachment.
George, who was the mother of two toddlers, was taken into police custody on June 23 at 7 a.m. for being intoxicated in a public place. According to a report from the Independent Investigations Office, which cleared the Port Alberni RCMP of any wrongdoing in 2018, she was released at 4:23 p.m. but at 6 p.m. the same day, the police received a call for help from a relative of George's who said she "was shaking and had blue lips, as if she were cold" and suspected drug use.
After the police arrived, they called paramedics to assess George who found she had no obvious trauma or distress, good blood pressure and a strong pulse and released her back into police custody. The next morning, although she was conscious and breathing, she had weak blood pressure and was airlifted to Royal Jubilee Hospital in Victoria, where despite medical intervention her health deteriorated and she died at 7:20 p.m. on June 24, 2016.
The cause of death, according to the IIO report, was drug-induced myocarditis, or inflammation of the heart muscle, due to the toxic effects of methamphetamine and cocaine.
The public inquest later this month will publicly present the evidence related to her death. The inquest is open to the public. However, seating will be limited, and the same protocols that would apply in a courtroom will apply in the Capitol Theatre.
The inquest will also be livestreamed through this link. We will share it again on the morning of the inquest next week.