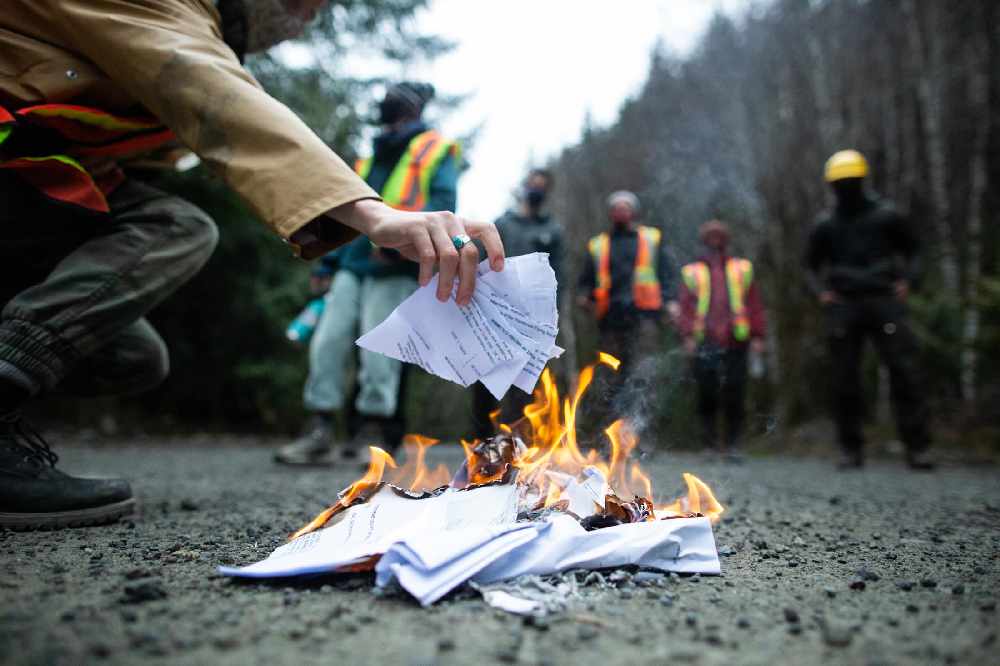 Protesters burned a copy of the court injunction prohibiting them from impeding logging operations near Port Renfrew last month. Photo from The Narwhal
After several days of tense confrontations and an outburst caught on camera last week, the First Nation which owns more than a third of Tree Farm Licence 44 will be limiting access to protesters in its territory starting today. 
The Huu-ay-aht First Nations signed a partnership with Western Forest Products last week in an historic deal to take over up to 35% ownership of Tree Farm Licence 44, which covers most of Central Vancouver Island.
The day after the deal was signed, protesters and forestry contractors got into a heated argument near the Walbran Valley. A heavily edited short video was released by the protesters after the incident, which showed forestry workers shouting and swearing, and knocking the cell phone out of the filmer's hands. Protesters claim the person filming was attacked and suffered minor injuries in the scuffle.
The Huu-ay-aht Nation said on Thursday a forestry protester drove through barriers into an active logging area, putting the safety of the driver and forestry workers at risk. In response, the nation said over the weekend that protesters who can't be respectful or safe are not welcome on their territory.
Huu-ay-aht Chief Councillor Robert J. Dennis Sr. said in a statement that "Any protest activity that puts human life at risk is completely unacceptable." He said the nation supports the right to peaceful and legal protest, but it must not disrupt safe forestry operations.
Dennis added that Huu-ay-aht First Nations "strongly condemns the use of racist language, intimidation, or other acts of violence directed at protesters who are peacefully and legally protesting."
As well, Hereditary Chief Derek Peters said anyone who does not conduct themselves by his nation's three sacred principles of respect, taking care of, and everything is connected, is not welcome in the nation's territory.
It isn't clear how the ­Huu-ay-aht will restrict access on logging roads in the area. Huu-ay-aht First Nations said it will provide further details regarding access restrictions and safety measures today, and said they will also meet with neighbouring Ditidaht and Pacheedaht First Nations and provincial government officials to discuss next steps.
BACKGROUND: From the Narwhal -- Echoes of War in the Woods as Fairy Creek blockade grows | The Narwhal