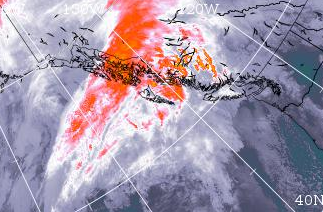 Satellite imagery of the storm system currently over Haida Gwaii which is heading south, and causing winds on its way.
Strong winds are expected today as a frontal system over Haida Gwaii will create strong southeasterlies from Campbell River south to Nanaimo, and heavy rains are coming to the central coast.
Winds will be around 15 knots by the water this mornig, building up to 25 this afternoon. The winds will keep up all afternoon and overnight, building up to 30 knot northwest winds by tomorrow morning.
Meanwhile the storm has prompted a heavy rainfall warning for parts of the Central and Northern Coast, as the storm is expected to intensify tonight. Some coastal communities can expect anywhere from 40 to 70 mm of rain from today to early Wednesday morning, with the potential for high elevation mountain slopes to receive 60 to 90 mm. Lesser amounts of 30 to 50 mm are expected for some inland valleys. The rain will ease by early Wednesday morning for most communities.
North Pacific - IR (10.7 µm) - Environment Canada (weather.gc.ca)