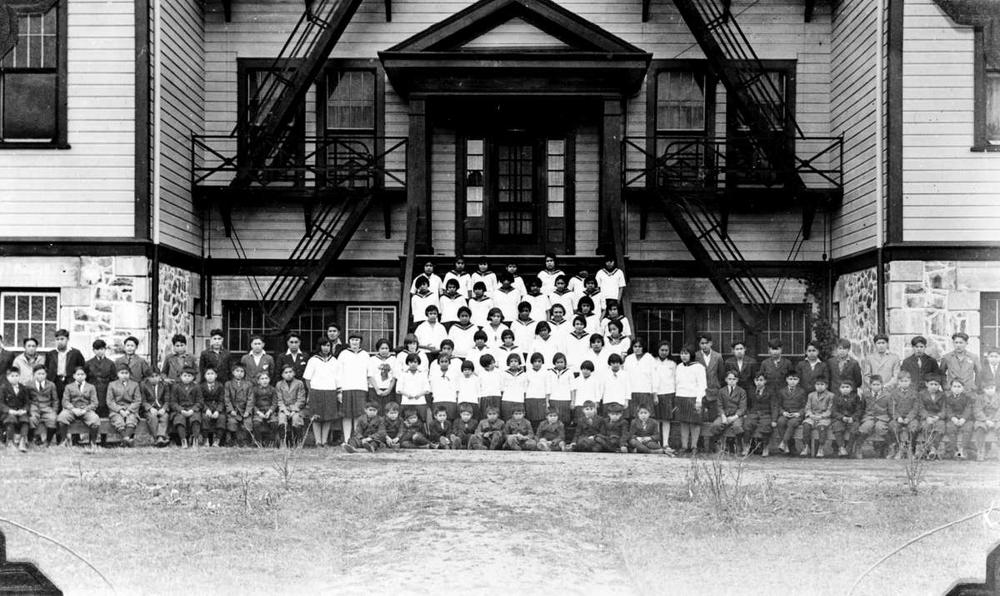 Students at the Alberni residential school in the 1920s. From the Royal BC Museum archives.
The Tseshaht First Nation in Port Alberni is asking for a healing centre to be built on the former site of the Alberni Indian Residential School.
After the recent discovery of the remains of hundreds of children at a former Kamloops residential school last month, the nation is now asking for resources from the federal government to remove the remaining buildings that belonged to the residential school and replace them with a healing centre for survivors.
Courtenay-Alberni MP Gord Johns brought their request before the government on June 1 in the House of Commons, and said that if the government and churches could build the schools in the first place, they can build healing places to take their spots.
A GoFundMe campaign was recently started by three Vancouver Island Indigenous leaders to search Vancouver Island's five residential school sites with the same ground-penetrating radar technology used to discover the mass grave site in Kamloops. After one week the campaign has raised nearly $135,000.
The nations' elected chief councilor Ken Watts said he wants to see the site searched, but he also wants to see more research into church, RCMP and government records about the residential school.
Setting up supports for survivors is equally important, he added.
There are still several buildings standing on the Tseshaht reserve that were part of the residential school system, including one which used to host classes. Tseshaht has been in conversations with the federal government for years about tearing it down.
According to the Truth and Reconciliation Commission, 30 students are confirmed to have died at the Alberni school. The commission also noted that records were destroyed, went missing and that the deaths of many children simply went unrecorded.
In the meantime the B.C. Society of Residential School Survivors is offering toll-free telephone support for survivors at 1-800-721-0066. The 24-hour crisis line number is 1-866-925-4419.