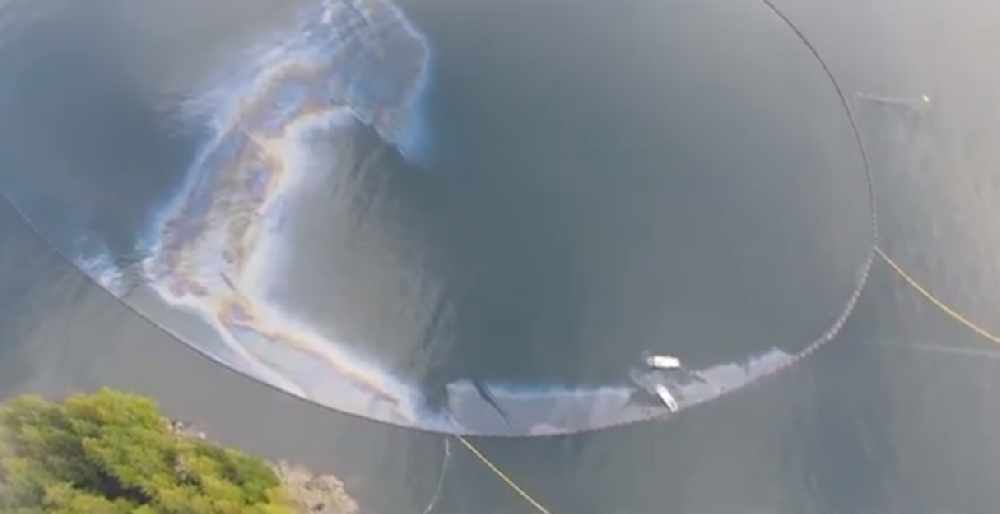 Booms contain the fuel leaking from the wreck 400 metres underwater while a salvage company works this week.
Submersibles and salvage experts are working this week to stop a historic shipwreck on the West Coast from leaking fuel. 
A salvage team contracted by the federal government is working to patch up the leaking wreckage of a cargo ship that sank in 1968 near Bligh Island in Nootka Sound. Late last year the Canadian Coast Guard confirmed that the M/V Schiedyk had been releasing oil from a depth of about 400 feet.
The M/V Schiedyk was a 483-foot cargo ship hauling wood pulp and bulk barley from Gold River to Portland on January 3, 1968. However, not far from Gold River, it hit a submerged edge on the south side of Bligh Island and sank.
Bligh Island Incident Commander Paul Barrett says a team of technicians from a Florida-based marine response group was using a remote-operated vehicle on Monday to patch the main area where oil appears to be leaking. He said the team hopes to pump the remaining fuel out of the wreck after further assessment is complete next month.
The technical assessment of the shipwreck will not only include locating the leaks coming from the hull and applying temporary seals, wherever possible, but also to survey the ship to confirm the location of fuel tanks, assess the hull, depth and position of the ship, and identify any damage from the 1968 sinking.
The Government of Canada awarded a $7-million contract back in March to Resolve Marine Group of Fort Lauderdale, Florida to do the technical assessment.
The assessment of the wreck is expected to be completed by May 6.