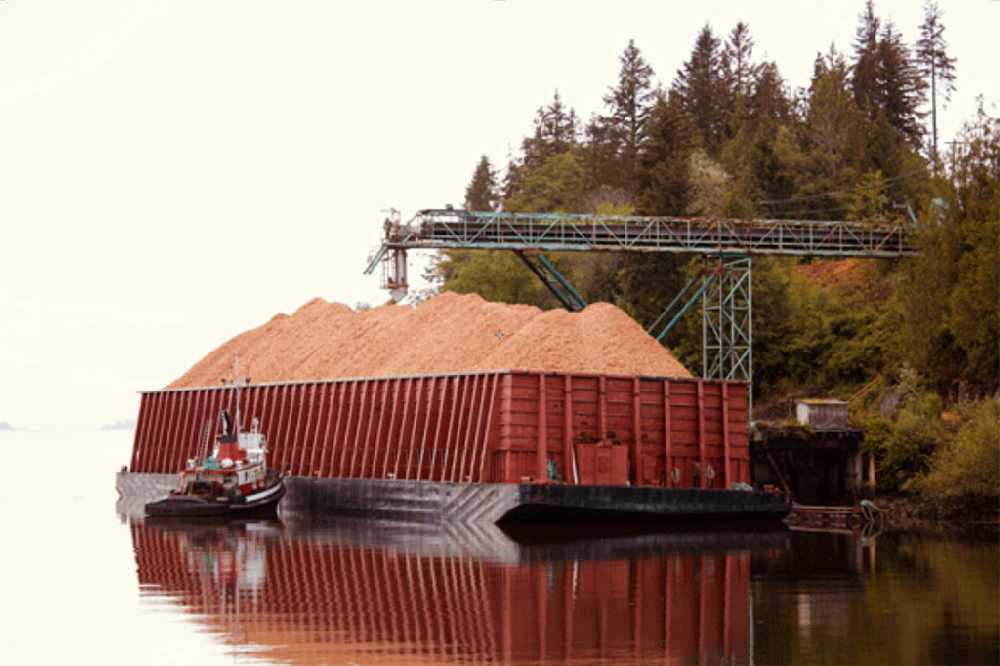 The first load of chips in Beaver Cove was loaded and sent out this week. Photo from Atli Chip LP
A new First Nations partnership between the 'Namgis First Nation and Paper Excellence has helped secure a local source of fibre for the company's coastal paper mills. 
This week the first barge in Beaver Cove was loaded with wood chips produced by Atli Chip Limited Partnership, a company which is owned by the 'Namgis First Nation.
Warren Roberts, general manager for the new Atli Chip LP company, said they have been working hard at the chip plant since the partnership was announced last month and he said the team is thrilled to have met this latest milestone. He said the chip plant employs between 7-10 people who live in Beaver Cove, which is near Port McNeill on the North Island.
Doug Mosher, CEO of Atli Chip, said the goal now is to increase the utilisation and volumes of wood waste and pulp logs to grow the chip plant business for the benefit of the 'Namgis First Nation and the surrounding communities.
The chips come from logging waste, including treetops, broken logs and other otherwise unuseable wood from local logging operations and dryland sorts. Turning the otherwise unusable material into wood chips reduces the demand on forests for new chip material. It also secures a local source of fibre for Paper Excellence, which recently restarted a paper machine in Powell River and hopes to start a second this summer.
Paper Excellence's chief forester Quinton Hayward said the barge will be taken to one of the company's paper mills, which operate in Powell River, Port Mellon, Crofton, and Port Alberni.