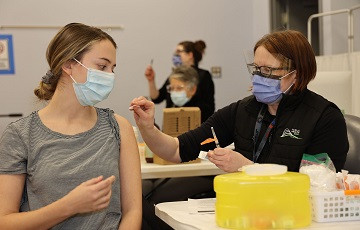 Adults in small Island and coastal communities will be getting vaccines soon in what Island Health is calling a whole community approach.
That quite literally will mean vaccinating the whole community in one or two days, regardless of age, said the health authority. Approximately 30 small and remote communities will be vaccinated including Gold River, Tahsis, and Zeballos.
Depending on the size of the community that may result in the entire adult population of the community having the opportunity to be vaccinated during a single visit to the community in one day, or on consecutive days or over two visits.
Island Health said communities with less than 4,000 residents that are more than three hours ground travel from a major hospital, or are only accessible by plane or boat, will be eligible.
The whole community immunizations will come on top of the mass immunization clinics Island Health will be operating in Campbell River and the Comox Valley. The health authority started taking bookings for vaccine appointments for seniors and indigenous elders this week. The clinics start on March 15, for more information or to book an appointment go to covid19.islandclinics.ca