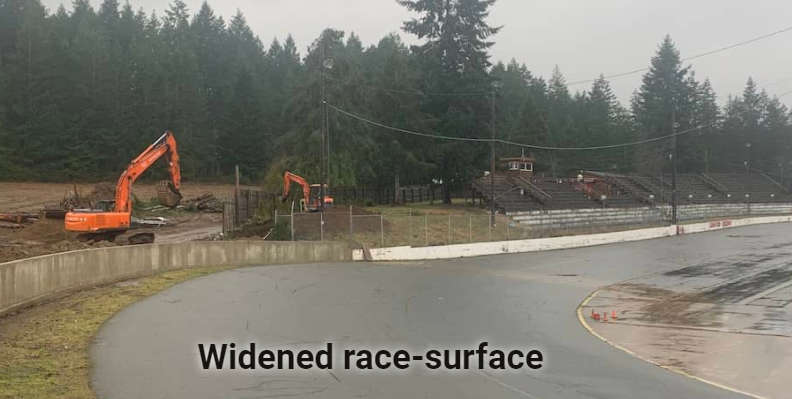 Machines working to expand the raceway this spring, along with a new and improved paved area for racers and pit crews. Form saratogaracing.ca
 After a long wait, Saratoga Speedway in Black Creek is finally open again for spectators tomorrow July 3 for opening race day.
The main gate at the speedway opens tomorrow at 2:30 pm for valid ticket holders only, and the concession opens at 4:30 pm. Tickets are available through saratogaracing.ca
The speedway was purchased by new owners after the 2019 season, and during the pandemic last year and this spring they have been busy making major upgrades to the track. The track is now surrounded with new safety walls, a paved infield with level concrete pit pads for racers, a widened race surface, and better drainage on the entire property.
Most exciting for race fans will be the new score clock, which integrates with lap transponders and also with the Speedhive app so fans can track the racers with their phones in real time, and racers can track their times.
Saratoga has also added more lighting, an expanded concession, safety improvements for spectators, expanded beer gardens, upgraded playgrounds for the kids, and improved parking and access.
In the near future, the speedway is planning a new go-kart track, a new track for the popular Monster Truck rides, and a new RV camp featuring serviced and unserviced sites.
Tomorrow's races are part of a grand re-opening night that will run all afternoon until 10 pm. For more information, and tickets, visit saratogaracing.ca