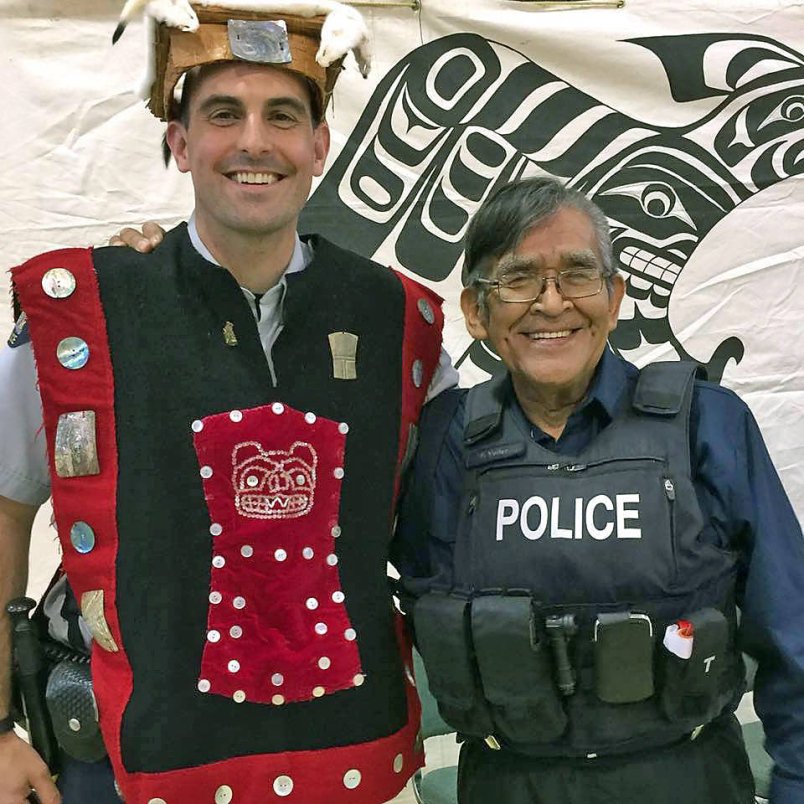 Cpl. Chris Voller, left, and Nakwaxda'xw hereditary chief Thomas Henderson traded clothing for a ceremonial dance at a potlatch in 2020. Photo via Chris Voller.
The RCMP's detachment commander on Quadra Island, Cpl Chris Voller, has been honoured with a Reconciliation Award for culturally safe and competent policing this week.
Voller used to work at the North Island detachment and made a positive reputation for himself among First Nations. While working in Port Hardy, he was often seen at community gatherings and developed friendships with First Nations leaders. Voller was a big supporter of Indigenous-led initiatives such as the Managed Alcohol Program and the Indigenous Court.
Since transferring to Quadra Island where he's now detachment commander, one of his first steps was to reach out to the We Wai Kai and Klahoose First Nations to ask their blessing to work on their traditional territories. He waited to receive it before publicly announcing his new position.
His former boss and four First Nations from the North Island decided to honour him for his respect and humility by nominating him for the Reconciliation award, a new honour this year from the BC Achievement Foundation and the Lieutenant-Governor's office. Voller was chosen for the award because of his sincere commitment to delivering culturally safe and competent policing.
Voller is also a leadership trainer with the RCMP, and will travel around the Island consulting with other detachments.
Other recipients of the inaugural Reconciliation Award are Dawn Drummond, Doris Paul, Corey Payette, Grand Chief Stewart Phillip, David Suzuki, the Carrier Sekani Family Services team, Marine Plan Partnership for the North Pacific Coast and the Ktunaxa Nation's research team.