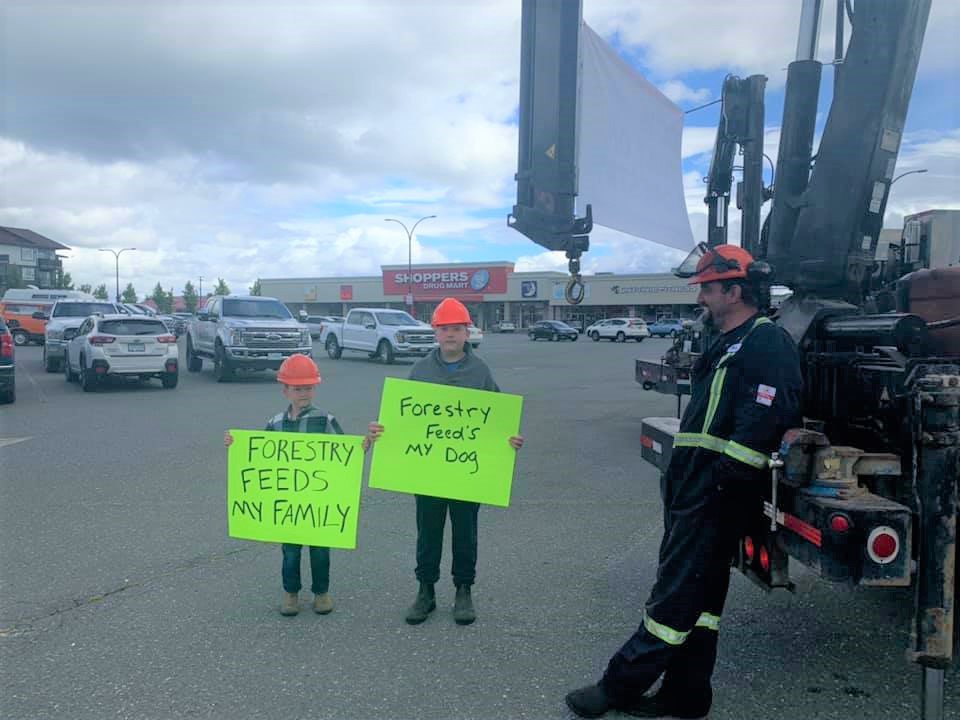 Wearing proper PPE, two youngsters supported their dad at Thursday's rally.
Forestry workers, their families and their supporters made a show of solidarity in Campbell River yesterday morning, after learning that logging protesters would be rallying outside the North Island MLA's office.
Shortly before 11 am logging trucks and around 50 people gathered in the Tyee Plaza parking lot to wave signs and counteract what they say is an ongoing misinformation campaign about their industry, and their jobs. Carl Sweet, organizer and spokeperson for the BC Forestry Alliance, said the goal wasn't to cause confrontation but to stand up for the facts.
At around 11:30 am a smaller group of around a dozen protesters arrived in the plaza, and although they were surprised to see so many loggers and supporters standing in opposition, the two sides stayed mostly apart except for a few individuals who engaged in calm conversations.
Bonnie Brownstein from Quadra Island said she had just returned from a protest camp near Fairy Creek, and had walked with a group of around 300 people through the blockade with the intention of making it too hard for the police to arrest anyone. Yesterday she said she and other protesters wanted to send a message to North Island MLA Michelle Babchuk that they want old growth trees protected.
She added that she's not against loggers or their families.
Geraldine Kenny, also from Quadra and a member of the Sierra Club, said the news this week that South Island First Nations want a two year pause on old growth logging in their territory while they develop their own resource management plans was a step in the right direction.
Shortly before noon protesters walked down the highway to gather in front of the MLA's office, and forestry supporters followed them in a separate convoy to gather alongside them for about half an hour. Five city councilors also showed up to support the forestry workers.
Carl Sweet said it was important for loggers to get their message out in a positive way that focuses on facts.