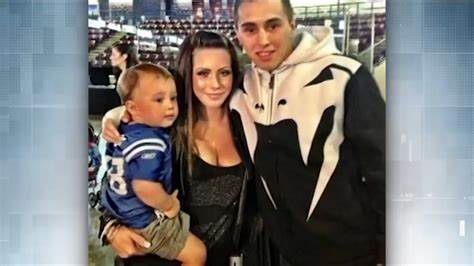 John Dillon Brown (right) with his girlfriend and one of his four children. From Global News
An amateur MMA fighter was executed in Campbell River in 2016 after he got in a fight with bikers at the Voodoo Lounge four months earlier, the Crown prosecutor said as the trial for Devils Army club co-founder Richard Ernest Alexander got underway Monday.
Alexander, age 65 and the the former president of the Devil's Army Motorcycle Club, is on trial this week in Victoria for the 2016 murder of John Dillon Brown, a 30-year-old amateur MMA fighter who was shot in the back of the head in what police deemed a targeted homicide.
Crown prosecutor Lorne Phipps said Brown was targeted after getting into a fight at the Voodoo in November 2015 and holding his own against several members of the Hells Angels and Devils Army motorcycle clubs. The fight was captured by the Voodoo's surveillance system.
Brown suffered some injuries and decided to sue the nightclub, and tried to recruit people from Campbell River to be witnesses in his lawsuit. Not long after he filed the suit, Alexander contacted him with an offer to settle out of court.
Phipps said the two met at the Devils Army clubhouse on Petersen Road on March 11. Brown was expecting to pick up his money, but instead he was shot in the basement, and his body and vehicle were dumped by Alexander in Sayward, where they were found the next day.
In August 2017, a swarm of investigators executed a search warrant at the Devils Army Club House on Petersen Road in Campbell River, and Alexander was arrested and charged with first-degree murder in October 2018. Hundreds of police and specialists were involved in the investigation and subsequent arrest of Alexander, who entered a not guilty plea in BC Supreme Court on Monday.
Police said after the search there was no evidence that the murdered man was a member or associate of the Devils Army or the Hells Angels. They said the Devils Army is an outlaw motorcycle club and is known to be a support group for the Haney Hells Angels chapter.
The murder victim was the father of four children, two of them born posthumously.
The court is expected to hear more testimony this week, including from an eyewitness who helped dispose of Brown's body.
The Times Colonist is covering the case this week in Victoria.

Former partner says slain man had been hospitalized after bar fight | Times Colonist
BELOW: Richard "Ricky" Alexander (left) outside the Victoria courthouse on Monday, April 19, 2021. From CHEK News